Online platforms and details for the online event <09 August 2020>
イベント
2020.07.30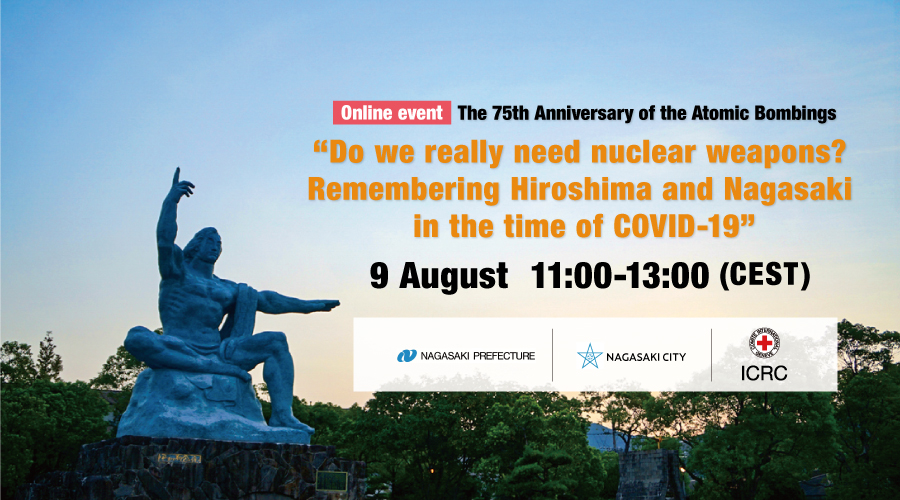 Date
Date:     09 August 2020
Time:     11:00-13:00(CEST) / 18:00-20:00(JST)
Online Platforms
There are two online platforms for you to participate:
※Please see this Facebook event page and register in advance: https://www.facebook.com/events/643859096238364
Ask a Question to Panelists
During the event, you can directly put any questions or comments in the chat box. Or, you can send a question anonymously to the organizer in the link below.
https://forms.office.com/Pages/ResponsePage.aspx?id=NFOKnnxJik2nl3mXz4zHY-m8r3z9Kn5OiAAHOQaic_5UMDE5RlhHSFpWUzJQWFZGTks2SFFUMEU4Qi4u
Programme (CEST)
Opening remarks by Mr. Ken Hirata, Vice-Governor of Nagasaki Prefecture
First Dialogue in Japanese (with English interpretation)
・Facilitator: Mr. Seiji Miyamoto (Yahoo! News Producer and Professor of Rikkyo University Graduate School)
・Mr. Shigemitsu Tanaka (Chairman of Nagasaki Atomicbomb Survivors Council and Hibakusha)
・Mr. Tomihisa Taue (Mayor of Nagasaki)
・Ms. Shiori Iwataka (The 8th generation member of Nagasaki Youth Delegation)
・Ms. Yuko Tabira (Storyteller of Atomic Bombing Experiences)
Q&A
Second Dialogue in English
・Facilitator: Mr. Julian Borger (World affairs editor of The Guardian News & Media)
・Gilles Carbonnier (Vice-President of ICRC)
・Ms. Izumi Nakamitsu (UN USG and High Representative for Disarmament Affairs)
・Ms. Beatrice Fihn (Executive Director of ICAN)
・Mr. Ban Ki-moon (Former UN Secretary-General / Deputy Chair of the Elders)
Q&A
Closing remarks by Regis Savioz, ICRC Head of Delegation in Japan
Speakers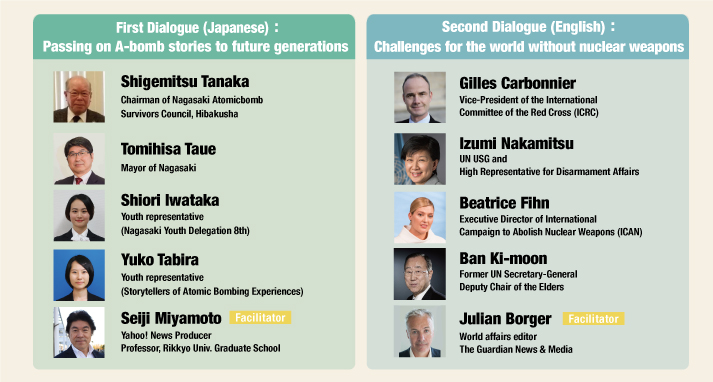 First Dialogue (Japanese): Passing on A-bomb stories to future generations.
Seiji Miyamoto (Facilitator)Yahoo! News Producer / Professor at Rikkyo University Graduate SchoolIn 1981, Mr. Miyamoto started his career at Japan Broadcasting Corporation (NHK), where he produced many programs on war including the Battle of Okinawa and served as Editor-in-Chief for NHK's series of testimonies both on War and on the Great East Japan Earthquake. Since 2015, he has been working at Yahoo Japan Corporation and initiating Yahoo's digital archives "Preserving Memories of War for Future Generations." Currently, he also serves as Specially Appointed Professor at Rikkyo University Graduate School of Social Design Studies and wrote a theatre play on war and peace, which was performed by a professional acting academy "Haiyuza" in 2020.Yahoo Japan's digital archives "Preserving Memories of War for Future Generations": https://wararchive.yahoo.co.jp/ (Japanese language only)
Shigemitsu TanakaChairperson of Nagasaki Atomicbomb Survivors Council / Hibakusha (A-Bomb survivor)At the age of 5, Mr. Tanaka was exposed to the atomic bomb at his home, located about 6 km away from the hypocenter. After graduating from high school, he joined the Japanese National Railways and engaged himself in labor and peace movements. In 1985, he put all his effort to establishing a local branch of Nagasaki Atomicbomb Survivors Council in Yanohira. At home and abroad, he has been devoting his time to share and tell of his experiences as a Hibakusha. Currently, he serves as Co-Chairperson of Japan Confederation of A- and H-Bomb Sufferers Organizations (NIHON HIDANKYO) and Chairperson of Nagasaki Atomicbomb Survivors Council.
Tomihisa TaueMayor of NagasakiIn October 1980, Mr. Taue started his career at Nagasaki City Hall. He became Mayor of Nagasaki in April 2007 and serves as Chairperson of National Council of Japan Nuclear Free Local Authorities (April 2007–present), Vice-Chairperson of Mayors for Peace (April 2007–present), Chairperson of Nagasaki Association of City Mayors (April 2009–present) and Adviser of Japan Association of City Mayors (June 2012–present).
Shiori Iwataka

The 8th generation member of Nagasaki Youth Delegation
Yuko Tabira

Storyteller of Atomic Bombing Experiences
---
Second Dialogue (English): Challenges for the world without nuclear weapons.
Julian Borger (Facilitator) World Affairs Editor
The Guardian News & MediaMr. Borger is the Guardian's world affairs editor, based in Washington. He covers nuclear proliferation and disarmament issues and reported on the Iran nuclear negotiations, the 2015 JCPOA agreement and its aftermath. He covered the Bosnian war for the BBC and The Guardian and returned to the Balkans to report on the Kosovo conflict in 1999. He has also served as the Guardian's Middle East correspondent and its Washington Bureau Chief.
Borger was part of the Guardian team that won the 2014 Pulitzer Prize for public service journalism, for its coverage of the Snowden files on mass surveillance. He was also in the team awarded the 2013 Investigative Reporters and Editors (IRE) medal and the Paul Foot Special Investigation Award in the UK. He won the One World Media Press Award in 2016 for a feature story on the investigation of war crimes in Syria.
His book, The Butcher's Trail: How the Search for Balkan War Criminals Became the World's Most Successful Manhunt, was published in 2016.
Gilles CarbonnierVice-President, International Committee of the Red Cross (ICRC) Mr. Carbonnier has been professor of development economics at the Graduate Institute of International and Development Studies since 2007, where he also served as Director of Studies and President of the Centre for Education and Research in Humanitarian Action. His expertise focuses on international development cooperation, the economic dynamics of armed conflict, and the nexus between natural resources and development. His latest book, published by Hurst and Oxford University Press in 2016, is entitled Humanitarian Economics. War, Disaster and the Global Aid Market.
Prior to joining the Graduate Institute, Gilles Carbonnier worked with the ICRC in Iraq, Ethiopia, El Salvador and Sri Lanka (1989-91), and served as economic adviser at ICRC headquarters (1999-2006). Between 1992 and 1996, he was in charge of international trade negotiations and development cooperation programmes with the Swiss Federal Department of Economy. He was appointed as ICRC's Vice-President in April 2018.
Izumi NakamitsuUN Under-Secretary-General and High Representative for Disarmament AffairsMs. Nakamitsu assumed her position as Under-Secretary-General and High Representative for Disarmament Affairs on 1 May 2017. Prior to taking on this post, she served as Assistant Administrator of the Crisis Response Unit at the UN Development Programme since 2014.She has many years of experience within and outside the UN system, most recently as Special Adviser Ad Interim on Follow-up to the Summit on Addressing Large Movements of Refugees and Migrants (2016-17). She was previously Director of the Asia and the Middle East Division of the UN Department of Peacekeeping Operations (2012-14), and Director of the Department's Division of Policy, Evaluation and Training (2008-12).Born in 1963, Ms. Nakamitsu holds a Master of Science degree in Foreign Service from Georgetown University in Washington, D.C., and a Bachelor of Law degree from Waseda University in Tokyo. She is married and has two daughters.
Beatrice Fihn Executive Director, International Campaign to Abolish Nuclear Weapons (ICAN)Ms. Fihn is the Executive Director of ICAN, the 2017 Nobel Peace Prize-winning campaign coalition that works to prohibit and eliminate nuclear weapons. She led the campaign since 2013 and has worked to mobilize civil society throughout the development of the Treaty on the Prohibition of Nuclear Weapons. Previously, she managed the disarmament programme at the Women's International League for Peace and Freedom and the Reaching Critical Will project as well as worked with the Geneva Centre for Security Policy. She has delivered keynote lectures on weapons law, humanitarian law, civil society engagement in diplomacy and multilateral institutions, as well as the gender perspective on disarmament work. Ms. Fihn holds a Masters Degree in Law from the University College London and a
Bachelor's Degree in International Relations from Stockholm University. She was recently listed as one of the 50 innovators who changed the global landscape in 2017 by Bloomberg Media. Ms. Fihn is also the Executive Producer of the film "The Day the World Changed", the first-ever interactive virtual reality memorial experience to pay tribute to those affected directly by nuclear warfare spanning back to 1945.
Ban Ki-moonFormer UN Secretary-General / Deputy Chair of the EldersMr. Ban Ki-moon is Deputy Chair of the Elders, an independent group of global leaders founded by Nelson Mandela in 2007, who work together for peace, justice and human rights.
Mr. Ban Ki-moon was the UN Secretary-General from 2007-2016. He mobilised world leaders around a new set of challenges and sought to give voice to the world's poorest and vulnerable people. He put Sustainable Development Goals, climate change, and equality for girls and women at the top of the UN agenda; creating UN Women and securing the Paris Agreement. He is a former South-Korean Foreign Minister and diplomat. He is the Chair of the Global Green Growth Institute, Chairman of the Boao Forum for Asia, Commissioner of The Global Commission on Adaptation, and Co-Chair of the Ban Ki-moon Centre for Global Citizens.
---
Read more : https://jp.icrc.org/information/nagasaki-event-eng/